The Gallant Company
A Novel by
Andrew Lansdale
---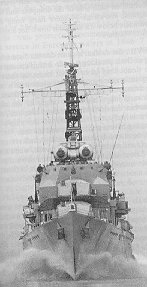 In the early 1950's, the Royal Navy, in the throes of severe post-war cuts and their related uncertainties, takes delivery of a second-hand frigate. Captain Hewes, who had worked his way up the ladder in the service, accepted her as his first command with enthusiasm. His briefing at the Admiralty in Whitehall in London hinted at a single-ship deployment, an unusual exercise in times of extended big-ship global formations.
The pre-delivery dry-docking and refit together with the exhausting working-up trials are followed by commissioning as the ship sails with sealed orders to undertake her first operation in the politically-charged atmosphere of the Middle-East, where Great Britain's reluctant mandate over Palestine is drawing to a close and the State of Israel is emerging.
The special operation is conducted successfully and, after running the gauntlet of Egyptian armed forces through the Suez Canal, the ship, now formed into a cohesive fighting unit, joins forces in Djibouti, with a French warship on an anti-piracy patrol. The growing mutual support of the two Captains and crews overcome their initial distrust.
In the Far East, post-war political vacuums are being filled by powerful local warlords, throwing off the colonial yoke and maritime peace-keepers from the West are forced into determined action to ensure their very survival.
The training which Hewes has undergone in his career and underwritten by his well-trained crew ensure their success, but it is a close run thing.
---